Geophysics software
Powerful, 2D and 3D seismic interpretation system for rapid prospect generation
GVERSE® Geophysics software is a powerful, fully integrated 2D and 3D seismic interpretation system that provides a full range of fit-for-purpose interpretation capabilities, attribute analysis, and mapping tools. Whether exploring complex structural areas or looking for subtle stratigraphic traps, today's geoscientist can use GVERSE Geophysics to solve challenging geophysical problems - without having to transfer data between applications.
Highlights
Fast, on-the-fly computation, and real-time visualization of seismic data.
3D seismic data interpretation.
Efficient synthetic modeling.
Advanced visualization techniques for accurate data analysis.
Picking and saving structures on seismic and attribute volumes as geobodies.
Manual and automatic horizon picking modes, and an extensive set of horizon operations.
Wide range of fault picking modes.
Robust and reliable velocity model creation. Importing an external seismic volume as a model is also supported.
User-friendly Attribute and Surface calculator with multiple attribute options.
Contour maps and color density maps of time, depth, velocity or seismic attributes.
Benefits
Faster, Better Decisions: Sharing geological and geophysical interpretations and data ensures a more efficient asset team. Decisions are faster and more informed – qualities essential in today's fast-paced E&P environment.
Blazing Fast 3D Visualization: GVERSE Geophysics features a 3D viewer designed and optimized for seismic data. It has never been easier to view your seismic sections, horizons, faults, wells and wellbore data, and much more in 3D. The new LOD format does not compromise performance even with very large seismic volumes. With features such as voxel rendering and co-blending, you can visualize subsurface structures like never before, gain more insight into your data, and make better decisions for your play.
Robust & Reliable Depth Conversion: GVERSE Geophysics provides a versatile suite of depth conversion tools to convert your time data to depth domain. Our cutting-edge depth conversion algorithms provide an extensive set of options to tackle complex scenarios. Full integration between our geophysics and geology applications lets you utilize all available data when making key decisions for exploration or field development.
Ease of Use & True Mobility: Leverage the latest in technology to minimize your learning curve and focus on what's important. No more digging through tons of menus and dialogs to find what you are looking for. The multi-screen, ribbon-based interface puts everything you need right in front of you. GVERSE Geophysics supports remote, desktop and mobile environments to accommodate the largest regional projects while reducing the need for IT support.
64-bit support for rapid interpretation in large projects.
Conversion of 2D and 3D seismic data from standard SEGY format to our proprietary brick seismic format for optimized data access.
2D, 3D or combination projects and multiple data versions for each 2D or 3D survey, along with program groups for 2D lines to ensure easy survey management.
Comprehensive workflows for balancing 2D, 3D and 2D-3D datasets. Automatic calculation of phase, gain, and time relationships between seismic lines and surveys.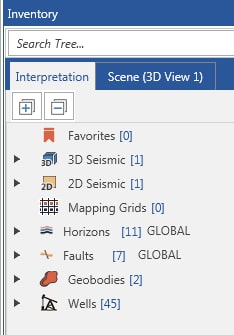 Highly optimized 3D viewer to observe 2D and 3D seismic data, horizons, faults, wells and well data, ISOMap layers and much more.
Seismic interpretation in 3D to pick your horizons, faults and geobodies directly in a specialized 3D environment. Quick marking of structures to instantly view what they look like in the 3D space.
Advanced visualization techniques like voxel rendering, blending, selective transparency and much more for deeper insights into data.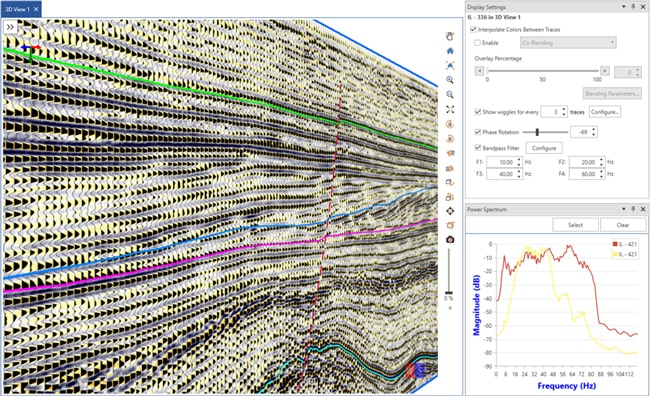 No separate license required for basic synthetic modeling.
Simplified workflow to create or edit synthetic seismograms within the main GVERSE Geophysics application.
Dedicated synthetic view window to display seismic, horizons and formation tops.
Shift, stretch and squeeze controls to tie synthetic traces with seismic using in the dedicated window or directly in the 3D viewer.
Auto-calculation of optimum time and phase shifts to maximize correlation between synthetic and seismic.
WellBase database to save the synthetic trace and its associated time-depth table in.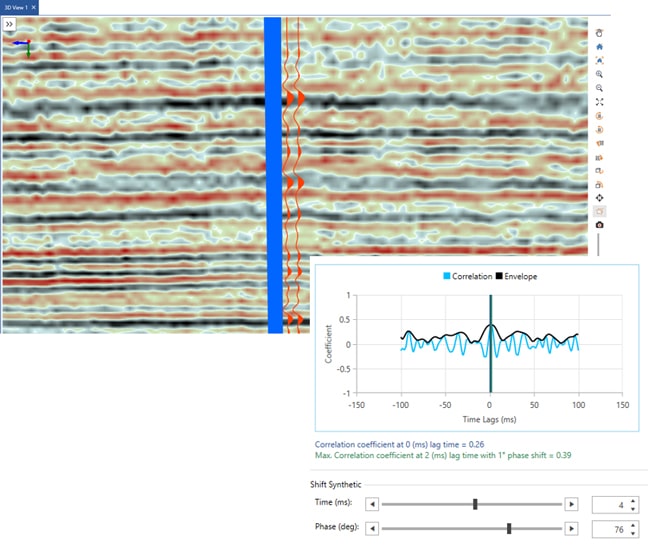 Picking and saving structures on seismic and attribute volumes as geobodies.
Automatic interpolation of picks or tracking of seismic signatures.
Draping data directly on the body or showing intersections with seismic sections.
Using the volumetric calculator to compute the volume of geobodies.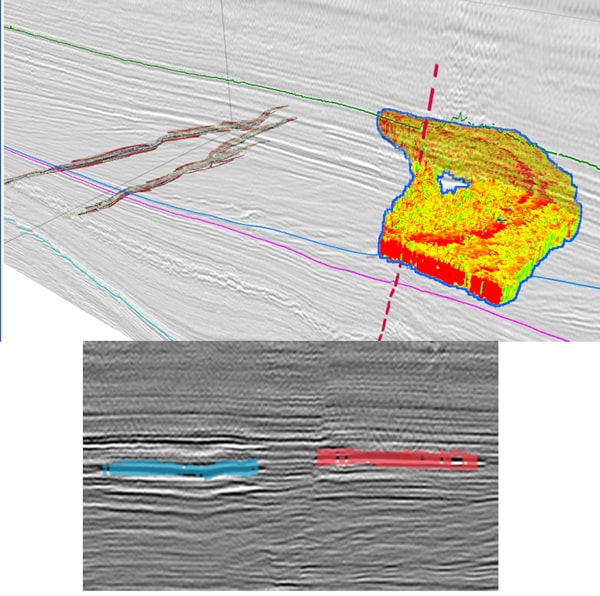 Manual, 2D auto-picking, polygon picking and drag-picking modes to quickly mark seed picks for horizons.
Advanced 3D horizon tracking using correlation or interpolation-based auto-pick methods with validation options.
Display of horizon attribute maps like confidence, pick order and pick type and editing horizons based on pick attribute criteria.
Identification and elimination of potential bad picks using pick relationship displays.
Multi-Z horizon picking for interpretation in thrust-faulted areas (2D seismic only).
Full set of horizon operations: copy, smooth, snap, merge and dip/azimuth calculation.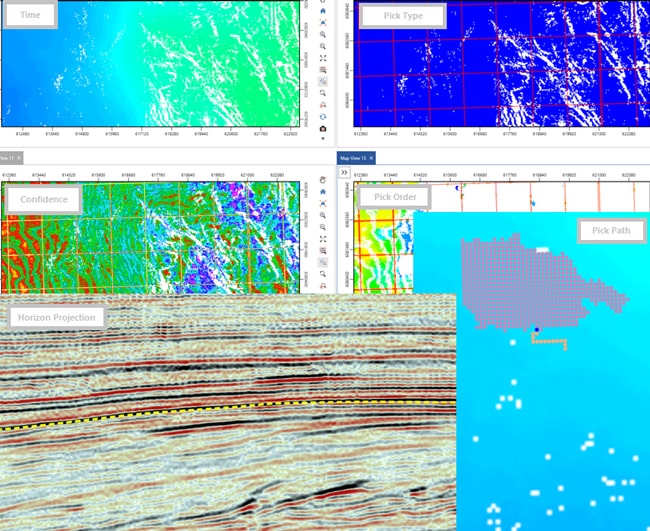 Picking faults by marking fault segments on 2D displays of vertical and horizontal seismic or directly in the 3D view.
Automatic fault surface interpolation with robust fault triangulation algorithms delivers accurate and reliable results.
Assigning, un-assigning or re-assigning fault segments individually or in bulk directly from the seismic section or 3D view.
Correlation window to assist fault picking in difficult areas or noisy data.
Automatic fault heave calculation with fault polygons.
Simple and accurate time-to-depth workflows with unique three-component horizons for time, velocity and depth data. Comprehensive horizon depth conversion options, each tailored to a different problem: average velocity, interval velocity, velocity surveys, horizon/formation combinations, vo and kz (using a geological datum) or directly from the velocity model.
Improved algorithms to build robust and reliable velocity models. GVERSE Geophysics supports four kinds of velocity models based on: velocity surveys of wells, horizons and formation tops combination, structurally interpolated time-depth tables and the ability to use an external seismic volume as a model.
Dynamic depth conversion incorporates changes to formation picks into the velocity model in real-time, always keeping your seismic backdrops up-to-date in GVERSE Geomodeling/smartSECTION.
Switching to Depth Mode in time interpretations to convert time scenes to depth on-the-fly.
Multiple base maps with a unique set of display parameters and color palettes.
Contouring maps or color density maps of time, depth, velocity or seismic attributes.
Gridding and contouring with minimum curvature gridding or inverse distance algorithm for quick, interpretation maps.
Access to full set of gridding operations when mapping data with geophysical and geological integration (requires GeoAtlas & IsoMap software).
Planimeter and linear distance tools on Map and 3D views.
User-friendly Attribute and Surface calculator comprises multiple attribute options.
Flexible windowing options to calculate attributes within a time window, between horizons or about a selected horizon
Extraction of seismic data at well locations and save as a log curve in the active curve set.
2D and 3D supported horizon-to-horizon or surface-to-surface calculations.
Showing contours on horizons in 3D View.
Clipping the 3D scene to an area of interest (AOI).
More control on hiding and removing items from a scene.
Creating and accessing Horizon and Fault lists from the Horizon/Fault Manager.
Calculating distance between points or along a path on the map or 3D scene.
Horizon and fault order defined in Horizon/Fault Managers replicated in the respective Horizon/Fault nodes in Interpretation and Scene trees.
Flattening of seismic data in a 3D scene with respect to a selected horizon.
Marking horizons on flattened seismic sections.
Displaying fault polygons on a horizon.
Processing applied to seismic traces on an open seismic section is also applied to the seismic trace display in SynView during synthetic creation and modification
Controlling interpolation of color display between individual seismic traces.
Improvements in the Interpretation Browser to make transfer of data between interpretations even easier.
Quicker access to Data Managers as well as Fault and Geobody segments dialogs
Focusing on an object in 3D view by double-clicking the associated entry.
On-the-fly attributes for any inline, crossline, timeslice, or for probes, horizons and arblines using GPU.
Comparing attributes and parameters quickly and efficiently in multiple panes or in 3D space.
Computing over 50 physical and geometric attributes, including frequency-tuned attributes using the patented CAPS technique.
Level of Detail (LOD) encoding for faster performance on large datasets.
Defining mathematical expressions to combine existing attributes and create custom attributes.
Automatic Fault Extraction attributes to highlight faults.
Structure Oriented Smoothing to enhance structural features in seismic.
Changing and editing color palette, view histograms and assign default palettes for attributes.
Co-blending and RGB blending to visualize multiple attributes simultaneously.
Generating volumes for selected attributes.
Loss-less compression of SEG-Y datasets for optimized performance.
Seamless integration with GVERSE Geophysics.
With pSTAx software, geoscientists perform post-stack processing flows directly from the desktop, no external reprocessing necessary. pSTAx can be used as a standalone application supporting SEG-Y formatted seismic data, or in conjunction with GVERSE Geophysics, as geoscientists accomplish input and output using bricked formats.

Standard, post-stack processing functions, such as amplitude scaling, correlations, convolution, filtering, and phase rotation build an ideal desktop environment for the quick and easy evaluation of the effects of new processing flows.
SCAN software is an optional extension of the seismic processing module pSTAx. SCAN calculates Event Similarity Prediction (ESP) similarity volumes as well as Structure Cubes from the input data.
With SCAN, the geoscientist readily identifies subtle discontinuities in the seismic data potentially related to geological features. This tool provides a cost-effective alternative to project outsourcing.
Easy identification of linear features such as faults, fractures, reefs and channels
Interpretation of subtle discontinuities in seismic data..
Identification of subtle stratigraphic changes such as channel thickening.